Team
Michael Schneider
Founder/Executive Director/Chief Pilot aka "Top Dog"
Michael Schneider started Pilots To The Rescue back in 2015 to combine his love of aviation and saving animals. Michael is a commercial, instrument-rated pilot with more than 1,200 hours. When Michael isn't flying, he enjoys spending time with his wife, 4 boys under 6 years of age, and his 90 lb. rescue dog. Michael currently resides in Greenpoint, Brooklyn, and flies out of Essex County Airport (KCDW) in Caldwell, NJ.
-Photo by Evan Krape and the University of Delaware
Cheryl Martinez
Marketing Manager "Ground Control"
Cheryl is a passionate animal rights activist and marketing guru. She graduated with honors from Binghamton University in 2007 and started her firm Tools For Talent, Inc. Cheryl's team has helped PTTR spread awareness about overcrowding in shelters while building an engaged online community and volunteer database.
Cheryl cares deeply about the non-profit work we do at PTTR. Her blog VeginnerCooking.com has a similar mission, to save as many animals as possible.
Bruno Brasileiro
Pilot & Content Creator
My name is Bruno, and I'm a Private Pilot with Instrument Rating based in New Jersey. I own a '77 Grumman AA5A Cheetah purchased in 2020, which I take on new adventures every weekend. Since I started my Aviation journey in 2019, I've been sharing my experiences, learnings and adventures in social media (Instagram and YouTube), and I made it a daily commitment to share this passion with thousands of others. Despite having a 9-5 job in Advertising, in 2022 I was able to log over 170 hours and close to 2000 miles up and down the East Coast, plus my first flight to Oshkosh for the EAA Airventure. I can't wait to up these numbers in 2023!
Michaella R. Abugov, DVM
Veterinarian Pilot
Michaella Abugov was born on the North Shore of Massachusetts and grew up surrounded by animals at home and at the horse barn where she spent much of her time. Her love of animals defined her youth and made it easy to focus her energy on becoming a veterinarian. After a volunteer mission at an animal shelter in Belize, Michaella flew a stray dog back to the US with her. This dog is now her best friend! And this special trip inspired Michaella to get involved in animal transport as a way to help animals find safe and loving homes. After graduating from Tufts Veterinary school in 2019, Michaella started flight training and became a pilot. She now uses both her veterinary degree and pilot license to help pets all over the world.
Mindy Lindheim
Rescue Pilot
Mindy Lindheim of Orlando, Florida is a professional aviator and avid animal lover. Growing up on a small farm, Mindy became attached to animals of all shapes and sizes from a young age. Once she graduated Embry-Riddle Aeronautical University and obtained flight ratings such as her commercial license, flight instructor licenses, multi-engine and even Citation jet type rating, she started her career flying and selling airplanes. In 2021, Mindy learned that she could mix her two biggest passions with Pilots to the Rescue: Aviation & Animals. After her first mission with PTTR, she has been hooked on saving animals with airplanes and has been a part of the team ever since.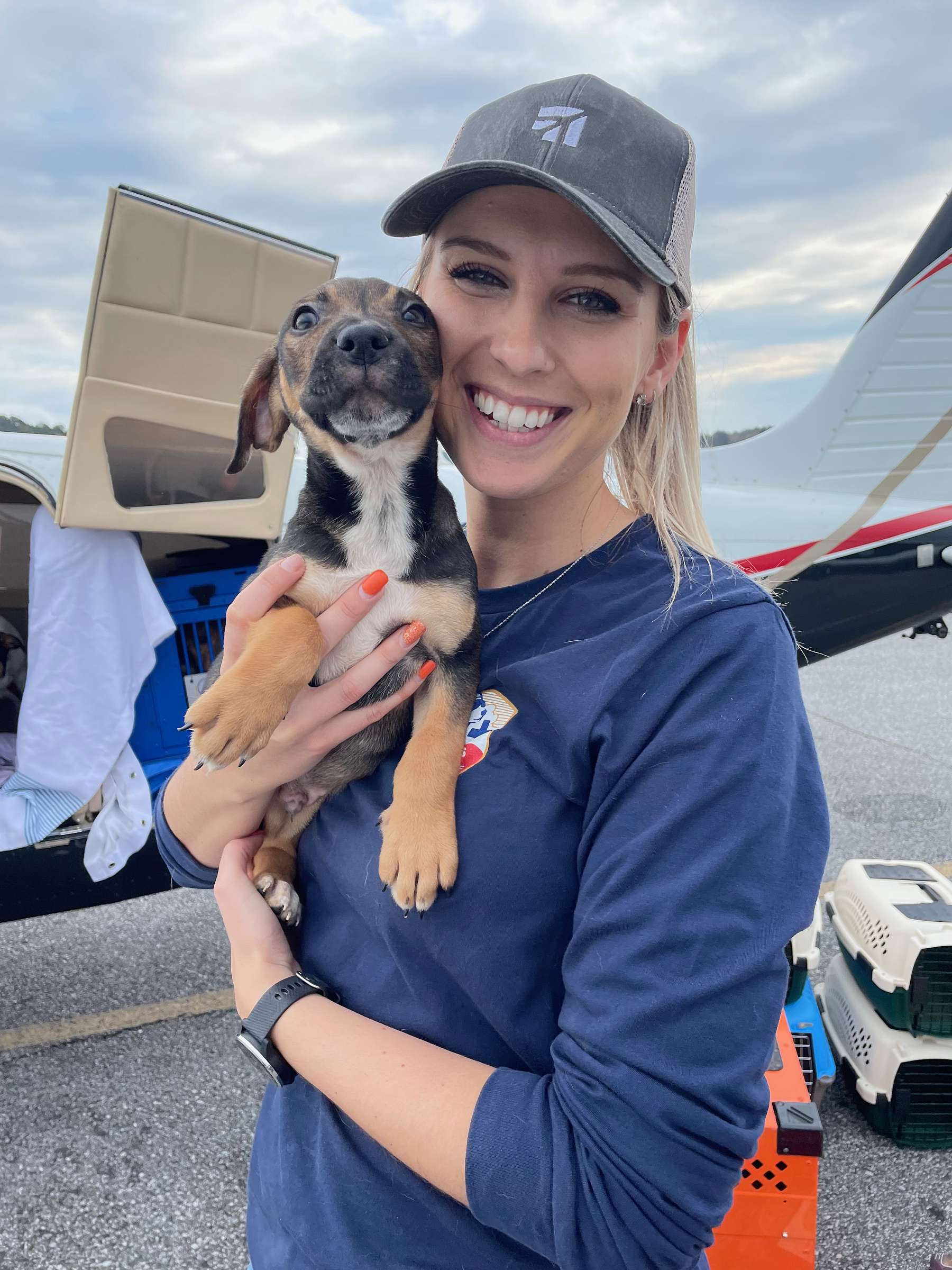 Brian Orter
President/Pilot
From New York City Brian began a career in the creative arts early in the 1990s as a theatrical and nightclub lighting designer. He is the founder and chief designer at BOLD, a New York and Los Angeles architectural lighting design firm. He's also currently helping his husband start a unique pillow business. Given the opportunity, Brian will stop to say hello to every dog he sees. He grew up with two German Shepherds named Zeus and Thor. One was a rescue the other was found on the street. One of his dogs, Noodle, had epilepsy and eventually passed away from cancer. "The decision to take care of a pet should never be dependent on money" he says. He offers pet insurance to his employees and many friends. Brian has flown gliders, biplanes, power gliders, hang gliders and many single engine propeller planes. He currently owns a Cirrus. Brian was one of the earliest volunteers and donors to Pilots To The Rescue. He lives with his husband and his two Brussels Griffons Bodhi and Doozer.
Scott Rickles
Treasurer
Scott Rickles started in advertising sales straight out of college from Florida State University in 1978. He moved to Atlanta and began working in his father's advertising rep firm Ray Rickles & Company which was established in Florida in 1952. Scott took over the family business when his father retired in 1988 and still loves advertising and marketing to this day. He joined Michael in Hospitality in 2006 and they still work together on a number of projects planned for 2021. Scott grew up with dogs and cats in the family while helping to raise 5 boys with his loving wife Tracy-Leigh.
Daniel Baumel
Secretary/Co-Pilot
Daniel joined Pilots To The Rescue in early 2019 after looking for a way to get involved in animal rescue flights. He came across PTTR and the rest is history! Growing up, his family adopted 3 dogs from various shelters on Long island here in New York. When Daniel isn't on rescues, he enjoys spending time with family, friends, and his family's adopted pup.  He has been flying as a private pilot for 9 years with 300+ hours.